Street Signs
Wilmington, Leland, Carolina Beach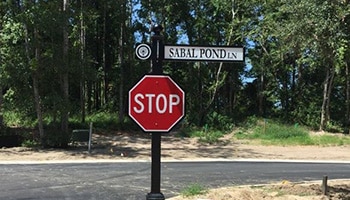 Southern Sign Company is an area leader in high-quality street signs for community developers, municipalities, cities/counties, Home Owner's Associations and property management groups. We offer standard DOT regulation street sign systems as well as custom solutions. Our work can be seen in neighborhoods such as Compass Pointe, in Leland, NC; River Bluffs, in Castle Hayne, NC; Helms Port, in Wilmington, NC; Salters Haven, in Hampstead, NC, The Pointe at Barclay, in Wilmington, NC… and more!
Traffic and parking signs
Not only do traffic signs help manage public and private safety, they can also create atmosphere for an area or roadway. Our team, at Southern Sign Company, is familiar with area regulations and codes, as well as expanding traffic pattern management to help with any scenario.
Parks and golf courses
Southern Sign Company has offered a variety of sign solutions for area municipal parks and private golf courses. Our signs help communicate information and rules, while directing traffic and re-enforcing branding.
Neighborhoods and HOAs
Most public and private spaces utilize wayfinding, street and road number signage to help citizens navigate their way. All of these signs are completely customizable to match the look and feel of your community.
Replacement and Updating
Are you living or working in a neighborhood that needs to update, replace or improve on the existing street sign system? Call the team at Southern Sign Company to coordinate an evaluation and discuss options!