We don't care to be the biggest, but we strive to be the best!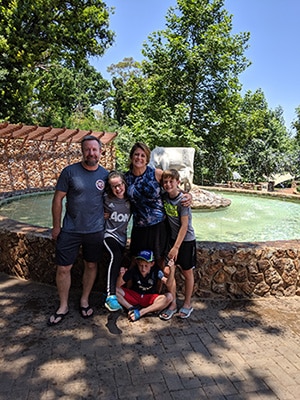 We are Clark and Andrea Wilson, the owners and operators of Southern Sign Company. In 2004, we moved to Wilmington, NC, from Southern California, to be closer to family and start a business.  Wilmington was just the growing seaside community we had hoped it would be!  We instantly found a place to grow a small business and start a family – which includes three kids, a couple dogs, an indoor bunny and a fish.  When we aren't working, we can generally be found at Masonboro Island, at the soccer fields or simply trying to keep up with all that our busy life requires!  Every few years, we try to return to South Africa to reconnect with Clark's family.
Since 2004, Southern Sign Company has grown and become an industry leader in the greater Cape Fear region.  We started our business from the ground up, in a rented 1200sqft retail space.  In 2014, we renovated and moved into our current 5000sqft shop.  We have strategically added the personnel and technology, we believe, beneficial to supporting growth in a sustainable way.  We continually work to ensure the success of each and every client because we trust that these partnerships will generate prosperity for all involved. We are committed to designing and fabricating quality signs that impress our clients and their customers. The loyalty of our client base, as well as the caliber of our partnerships, speaks volumes to the dedication and respect we work to maintain. Southern Sign Company strives to be a valuable member of any team.
It's not just about the growth of our business and the success of our clients. Southern Sign Company is proud to be a quality area employer with a continually growing team.  It is our goal to help our "work family" develop both professionally and personally, with quality work-life balance and future to look forward to!
Beyond these layers, is our commitment to our community. We continue to connect with and support area non-profit groups, schools and private en-devours through the use of our talents and resources.
Above all, we strive to be an extremely professional, friendly team that knows how to make the process easy for everyone we work with, by being experts at what we do … so you can focus on what you do best!  We truly take pride in all projects we complete!
Proudly serving New Hanover, Brunswick, and Pender Counties, since 2004!  Contact us today.