Custom Fabrication
Our fabrication team, at Southern Sign Company, deserves as much praise as our design team! We are proud to produce high quality custom signs right here in Wilmington.
Processes and Options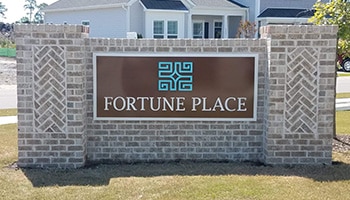 The majority of our 5000sqft shop is devoted to production!  We've grown from a traditional cut vinyl shop to include roll-to-roll digital printing, flatbed printing, die-cutting, laminating, CNC routing, carpentry and indoor vehicle wrapping.  Our team has also grown to include very skilled technicians and engineers ready to take on any project that is thrown their way.  Our attention to detail is keen, our innovation is impressive and our skills are top level!
Materials
With every project, our years of experience and end-use consideration determine the best materials for the job! We know and understand the intense impact from our regional weather conditions, we've tried and tested numerous brands and products, we are confident in what works well and what doesn't.
Our skilled production team is adept at working with cut vinyl, digitally printed graphics, painting, assembling and wrapping almost anything. We work with aluminum productions, aluminum composite, corrugated plastic, PVC of varying thicknesses, acrylic, acrylic/plexiglass/Lexan products, marine-grade plywood, commercial-grade foam core, styrene, and cedarwood. The endless combinations of these skills and products are what make anything possible!
Whether you've got a standard project or something outside the box, our team can handle it!