Custom Events and Temporary Signs
Wilmington, North Carolina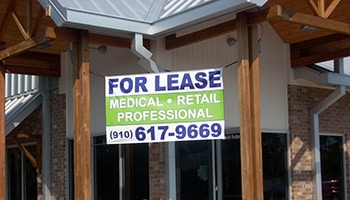 High impact, high visibility temporary signage is a great way to draw attention to your event, community, celebration or promotion.  Perhaps you may have a seasonal message or promotion you want to share.  Maybe you have new hours or menu items you want people to know about.  Perhaps, you just need people to know you are open!
Let's face it, signs are helpful and necessary, but just because they are useful doesn't mean they can't be attractive!  So whether you're hosting an open house, outdoor festival, a fundraiser, or even a sidewalk sale, it's so important to have visible and effective signage. Here's how we can help:
Trade Show Signs
In a crowded exhibit hall, it's easy to get lost in a sea of booths and noise. Southern Sign Company can help you create trade show display graphics and event signs that will draw more people into your booth and leave a lasting impression. Think retractable banner stands, custom table throws and coverings, logo banners, product posters and more!
Yard Signs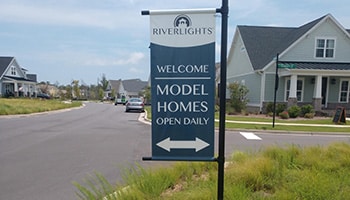 These easy-to-use and on-the-go sign solutions may be simple and cost effective, but corrugated plastic yard signs certainly are impactful. We can help you design bold graphics that get noticed for an open house, advertise a home for sale or let neighbors know you are providing a quality service at a property. Perfect for realtors and trades people or anyone promoting a product or service.
Banners
Vinyl and mesh banners have so many great uses – sponsorships on sports fields and school facilities; announcing new businesses, partners or services; offering seasonal messaging; celebrating happy occasions; welcoming people … and so much more! The team at Southern Sign Company is ready to make you something special!
Feather & Bow Flags
Nylon feather and bow flags are great way to grab attention because they float and react so nicely to a light breeze or wind! Southern Sign Company can provide simple or full, color single or double sided feather flags in 6ft, 8ft, 10ft and 12ft!
A-Frames
Many businesses utilize a portable a-frame sign to attract attention and advertise to passing foot traffic or slow moving vehicle traffic! A-frame signs are also great for directing traffic, sharing menu items or communicating store information. The sign faces are easily changed out for updated messaging.
Vehicle Magnets
Not ready to commit your personal vehicle to your business full time? Want to advertise that you are hiring as your company fleet moves around town? Vehicle magnets are a great temporary advertising solution!
Event Posters
Southern Sign Company offers full color, high resolution commercial grade foam core posters for events, offices and many other applications. This is not your grade-school-project foam core.
Floor Graphics
Floor space is becoming an increasing popular space for adverting or promoting a short term program or service. Could you be using yours?
Let us help you create a solution that works. We guarantee that our designs will give you the edge you've been looking for.