Vehicle Graphics
Wilmington, North Carolina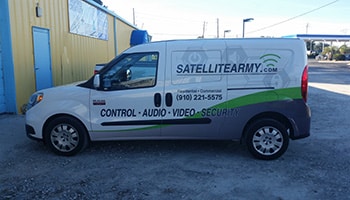 Do you want to promote your business wherever you go and get in front of more people than you thought possible? You can do it with a custom vehicle graphics by Southern Sign Company.
Even better than a billboard, vehicle graphics are a perfect way to turn your car, truck, van, or trailer into a traveling promotional message for your company.  Let the graphics work for you! Reach a broad audience while you're on service calls, meeting clients, or simply driving your route.  The best part, you pay for them once and they work for you for years!  Now that's fantastic ROI (return-on-investment)!
Vehicle graphics range from magnets and simple cut vinyl lettering, to perforated window film and partial/full wraps.  Depending on your goal, our design approach will be customized for you.  You provide a logo and our experienced staff, at Southern Sign Company, will work to offer the best solution for your truck or fleet.  You'll be surprised how easy it is!
The benefits don't stop there!
Benefits of vehicle wraps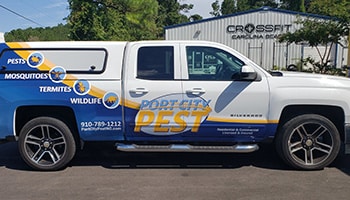 Vibrant and eye-catching vehicle graphics from Southern Sign Company offer your business so many advantages.
Set yourself apart from the competition: The right design layout, proportion and colors will surely help your business stand out from the competition.
Pay for it once and it keeps working for you: Unlike static billboard or print ads with ongoing contract fees,  you pay once for your vehicle graphics and they work for you as long as your vehicles are on the roadways.  When considering the cost a graphics package, just consider how many jobs you will need to make up that cost … then its all profit!
Encounter a varied audience: No matter where you go, your business and brand is in front of wide audience, who might not even know they need or want your services … until you are right in front of them!
Credibility: Your company branding can ensure that your clients and their neighbors are confident when you arrive at a property – residential or commercial!
Generate business leads: Your graphics will get your name in front of so many people who need your services.  They can make a decision to choose you – on the spot.
Brand reinforcement: No matter how long you've been in business you generate brand awareness wherever you go.  Your professional graphic package will communicate that you are invested in your business.
Advertise your location: If a potential customer never drives by your business, they might not be familiar with your company. Your vehicle graphics can be the north star that leads them to your business.
Upsize your fleet: Eye catching vehicle graphics will give the impression that your company is larger than it is, as people swear they "see your trucks all over town".  The right design can be applied to several body styles, including trailers and high top vans.