Custom Office Signs
Wilmington, North Carolina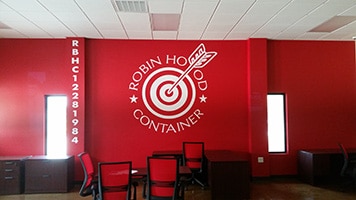 Wow! What quality commercial office signage can do for your property and space! It creates atmosphere, it solidifies branding, it directs traffic, it provides information, it promotes business! Southern Sign Company is the great resource for custom sign solutions that will help make your business stand out and help you connect with your people.
Exterior signage might include monument graphics, a storefront sign and window lettering. On multi-tenant properties, parking signs, way-finding signs and tenant directory board might be necessary.
Interior projects might include dimensional wall logos or reception area branding, office door plaques, point-of-sale and menu signage, wall murals and decor! The possibilities are endless!
Monument and Pylon signs
Often freestanding from your building, monument and pylon signs offer a grand welcome to your business and help people locate your business from the roadway. These signs can be internally OR externally illuminated; they might represent one business or several in a center. When constructing new monument or pylon signs, it is important to know and understand local sign ordinances – Southern Sign Company can help! If you are moving into a retail center or commercial building, don't forget to negotiate your space on an existing sign.
Building and Storefront signs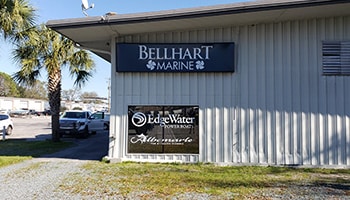 Make sure your business is easily identifiable and seen with a one-of-a-kind storefront sign. Proportion, scale and viewing distance are all important considerations. Our expert design team can help determine the best use of your space, working within local sign ordinances, to ensure your success!
Wayfinding, Directional and parking signs
Help people find where they need to go and get there quickly. These types of signs are ideal for large office building properties, corporate headquarters, doctor's offices, multi-tenant retail centers, municipal and school campus and more! While these serve a purpose, they can also support your brand. These signs seamlessly fit into your facility's environment and help provide a better customer experience.
Lobby Signage and Reception Areas
It's important to make a great first impression! Your office lobby or reception area can welcome your customers and make them feel comfortable. Use this space to re-enforce your brand, establish a theme for decor, share your mission and vision statements, tell your story! There are so many options to ensure the right fit and look for your business:
Engraved & Routed Signs – PVC, Wood and more
Dimensional Lettering & Logos – Metal, PVC, Acrylic, Foam and more
Retractable Banner Stands
Vinyl Lettering & Custom Graphics – for glass, dividers, walls, floors and more
Wall Murals and Large Digital Graphics
Cast Plaques
Canvas Wrap Prints
Point of Purchase Displays & Menu Boards
Wall murals
What better way to let your business' personality shine than with a one-of-a-kind wall mural! Do away with those empty white walls and liven up your office with a true work of art. We can design custom murals with durable materials that will last for years to come. We'll be there every step of the way from design to installation.
If you are ready to get your project started or want to update your current space, call Southern Sign Company to schedule an on-site consultation. Our professional, expert, friendly team can help with permitting, design and installation. We are excited to learn what you are working on!