Custom Boat Lettering
Carolina Beach, Wrightsville Beach, Kure Beach, Cape Fear River – New Hanover, Pender, Brunswick Counties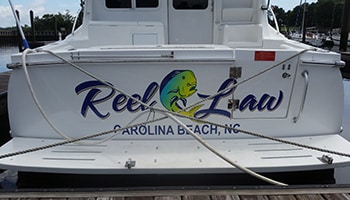 Around here, designing boat graphics is a fun creative departure from commercial signage. Our creative team has brought so many names and ideas to life – some are classy and timeless, some are outrageous and loud and there's everything in between.
Do you have the perfect name picked out for your boat? Many people in the Cape Fear Region have trusted Southern Sign Company with their boat graphics and lettering since 2004. We offer waterproof, durable, and long-lasting vinyl that will look great for years to come.
Here's how it works!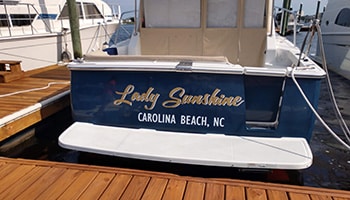 At Southern Sign Company, we have a tried and tested process to ensure that the end results are fantastic!
Give us a call or stop in to discuss your project. First we need to know where your boat it – slip number, marina, backyard or will you bring it to us! Next, we'll ask about the make and model while finding out a little more about your vessel. Lastly, let's discuss the name – how'd you come up with it, do you have something in mind?
We will conduct an on site survey of your boat. We are looking for boot stripe or canvas colors to match, best usable space, obstacles to installation while taking detailed measurements and photos for the design stage.
Our design team will provide options for your new boat graphics, complete with a visual illustration and placement recommendations. We generally offer 3-unique designs; something timeless, something middle of the road and something outside the box! You'll know it when you see it!
Once the design is approved, along with materials and colors, your project moves to fabrication.
Lastly, we complete the installation and you are ready to enjoy!
Extras
Southern Sign Company also offers Registration Numbers, Boot Stripe Replacement, Deck Box Graphics – even Full Wraps! Want to take the fun to the next level? We can even provide a graphic file so you make matching hats, shirts, koozies and more!
Portfolio
Boat graphics are a very personal project and we are honored that so many people have trusted Southern Sign Company. Take a look at some of our recent projects, find some inspiration and let us know when you are ready to work on your boat. We'll make it easy!