Community Development
Wilmington, North Carolina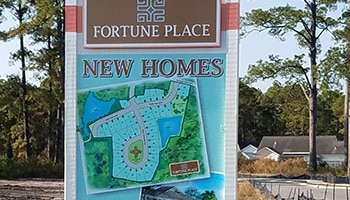 There's so much that goes into developing a new residential or commercial project.  One of the the most important things is getting the word out to potential buyers or clients.   Quality development site signs are a great option for financing banks, development companies, real estate professionals, home builders and expanding businesses!
These signs are useful for announcing a new product or service, building brand awareness, sharing contact information and connecting with an audience.  Southern Sign Company can design, fabricate and install simple, yet effective, informational signs or larger full color rendering and lifestyle advertisements.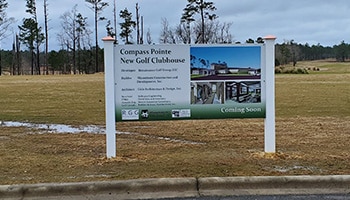 Real Estate Professionals! Southern Sign Company offers a wide variety of real estate and community specific signs to help you get the house sold! Brokerage signs and frames, custom sign riders and stakes, directional signs and model home information! We are here to help.
We use quality materials and tested fabrication processes to ensure that your messaging stands out and stand the test of time! Give us a call or stop by to discuss your next project!