COVID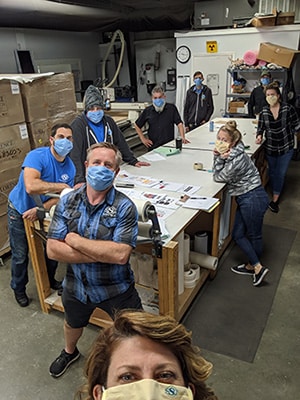 We are certainly living in new times and while we hoped that we would all move through the COVID-19 pandemic, it seems that it is here to stay for a while.
Whether you are just re-opening your business or working within the shifting guidelines, we are all making adjustments to operate in this time of the Coronavirus.
Signs can help communication expectations, protocols and procedures.
We can help! At Southern Sign Company we offer a wide variety of signage solutions.
Wayfinding and Directional Signs
Help people know where to go once in your store, office or restaurant. Have you implemented new movement patterns in your business to maintain social distancing? Do you have parking allocations? Are you working in a contactless way? Make sure your customers are aware of your changes by using signs to seamlessly support your brand. We can make these signs to fit your facility's environment and help provide a better customer experience.
Lobby Signage and Reception Areas
Make it easy for your clients to know your COVID protocol. Post your procedures on the lobby or reception area so as soon as they enter your space they know what you expect. We have many options to choose from, give us a call and we'll help you find the right fit for your brand.
Retractable Banner Stands
Vinyl Lettering & Custom Graphics – for glass, dividers, walls, floors and more
Wall Murals and Large Digital Graphics
Canvas Wrap Prints
Point of Purchase Displays & Menu Boards
Window Lettering
Let your customers know, before they even walk in the door, what your procedures are. They will be aware and ready to follow your protocols. Need to make changes when COVID rules change? No problem, this is a low cost, fix!
Give us a call to find the best choice for your business.
Window sign options include:
Cut vinyl graphics on exterior windows or interior glass doors and walls
Full-color graphics for decoration or advertising messages – opaque for privacy or perforated see-through film
Frosted or etch vinyl graphics for privacy or simply to create an elegant look
Yard Signs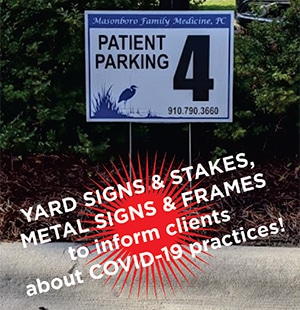 You need to let people know that you are open from a distance! A well placed yard sign may be simple and cost effective, but corrugated plastic yard signs certainly are impactful. We can help you design bold graphics that get noticed.
Banners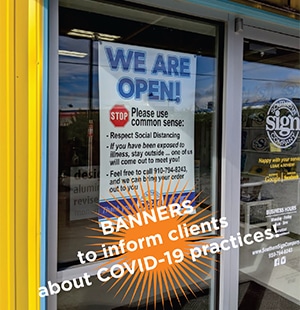 Use a vinyl or mesh banner out front to announce that you're back open for business. This is also an easy way to update your hours or services.
Feather & Bow Flags
Nylon feather and bow flags are a great way to grab attention because they float and react so nicely to the light breeze or wind! They can help you announce to your customers that you're back open for business. Southern Sign Company can provide simple or full, color single or double sided feather flags in 6ft, 8ft, 10ft and 12ft.
A-Frames
These easy to change signs are great when you need to update often. A-frame signs are good for directing traffic, notifying of COVID protocols or communicating store information. Give Southern Sign Company a call to discuss your options.
Floor Graphics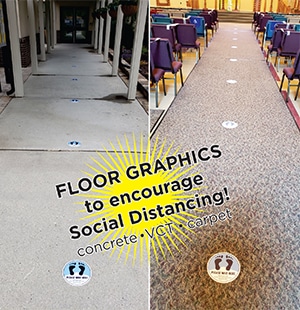 To enforce social distancing it's important to show people where they need to stand to be 6ft apart. At Southern Sign Company we offer floor graphics to help you do just that. We work with your brand to create the perfect message to educate, sell and keep your customers safe. Give us a call so we can help you decide on the best solution.